Florida Keys Fishing Tips and Tricks
Explore some of the resources we have for anglers looking to maximize their time on the water in the lower Florida Keys!
As with any fishery, local knowledge is where the buck stops. Here in the Lower Florida Keys, there are some tact's we use to improve our chances of success based on the knowledge we bring to the table—in preparation for your trip!
It is imperative to focus on the largest part of your preparedness here. Unlike most freshwater fishing; distance, timing, and accuracy play an integral part in presenting the fly at the required time and distance. 
To accomplish this task, the Double Haul is your Excalibur. Focusing on the front-haul and back-haul, you're essentially super-charging your line speed as you go from "10-2" in false casting.

It is also a great idea to apply the other techniques used aboard a skiff: keeping the rod at a 45-degree angle as opposed to directly overhead (at a 90-degree angle); hauling line "downwind" or "over the water"(never casting over the boat).
Stacking the line "from the reel" on top of itself in preparation for casting at a fish. Use a stripping basket or, more commonly, the cockpit of the boat in order to keep your line clean and clear of fouling. Keeping about a rods length of fly-line out of the end guide (approx 9′-10′) in order to make fewer false casts with an approaching target. And ALWAYS hold your fly in hand and not drag the fly in the water.
Rod selection (in weight) is another vital component. Whether you are fishing for large, adult migrating Tarpon or off the boat, wading to a tailing Bonefish and/or Permit—there are many factors to consider. The size of the fish you're targeting and conditions make up the majority of this decision. This topic can be over-analyzed, however, the most important item in discussion goes back to the saying, "don't bring a knife to a gunfight". Having the "right tool for the job" is where we want to live. That said, a 9# and an 11# will be the most likely candidates. Allow your guide to provide you with the "in-betweens". Most fly fishing guides have an overwhelming supply of gear to aid in your success…use it!!
Fly line is as important if not more important than the rod. There are many options (once again) and filtering through the sensory overload can be a tremendous task. Luckily, experienced guides have waded through most of the muck and have their go-to fly lines. Whether you're looking for a longer taper of shorter taper, floating or intermediate, colored line or transparent, textured or smooth, yada yada yada… All options have their time and place, most important of all is that you can get your fly to the right place at the right time, given the conditions. For most applications, floating-tropical weighted forward is our go-to. 
Leaders are fairly basic as well. There are pre-made, mechanically tapered leaders made by Rio and Scientific Anglers or you can opt to create your own. If you're planning to become or are already a saltwater fly fishing connoisseur, I recommend this option as you'll get more bang for your buck. Take a look at my basic leader formulas below: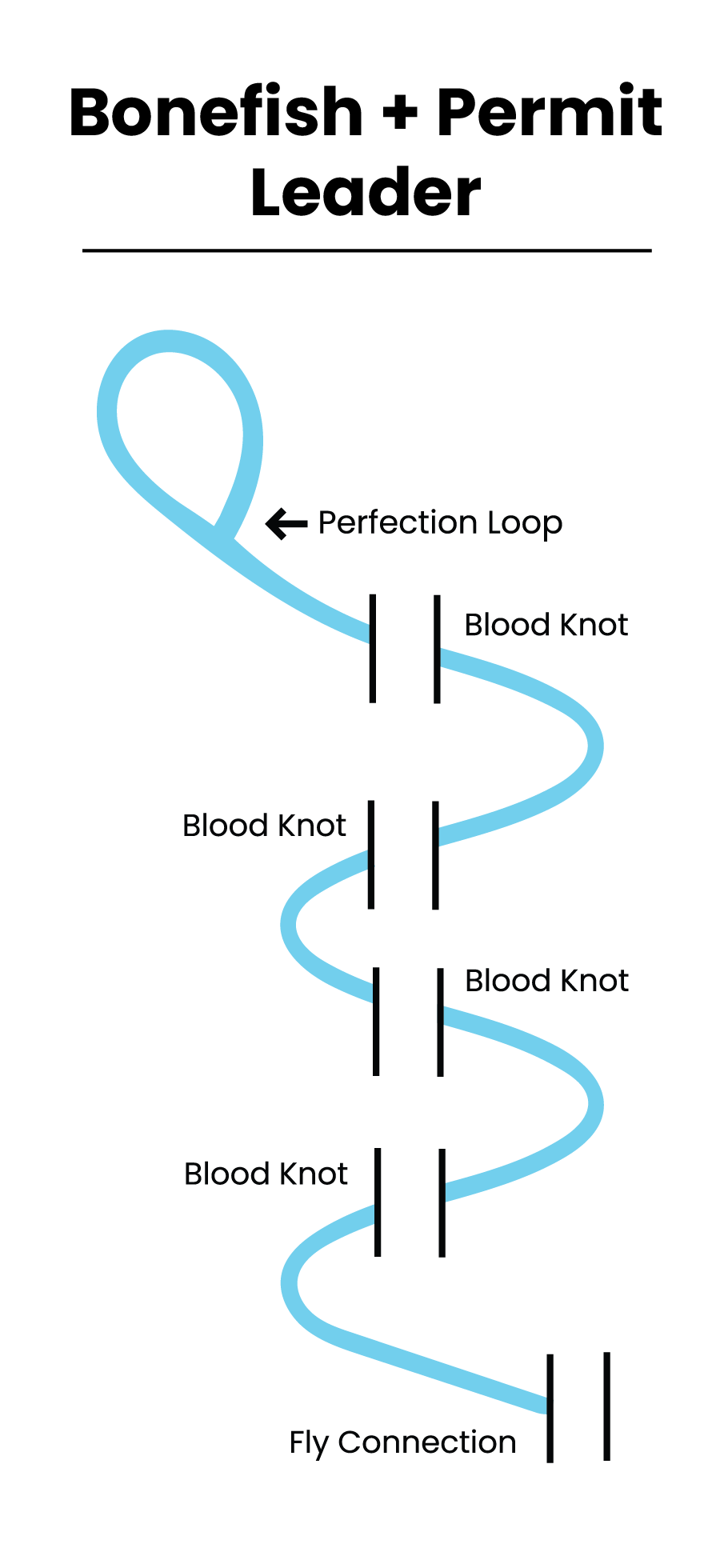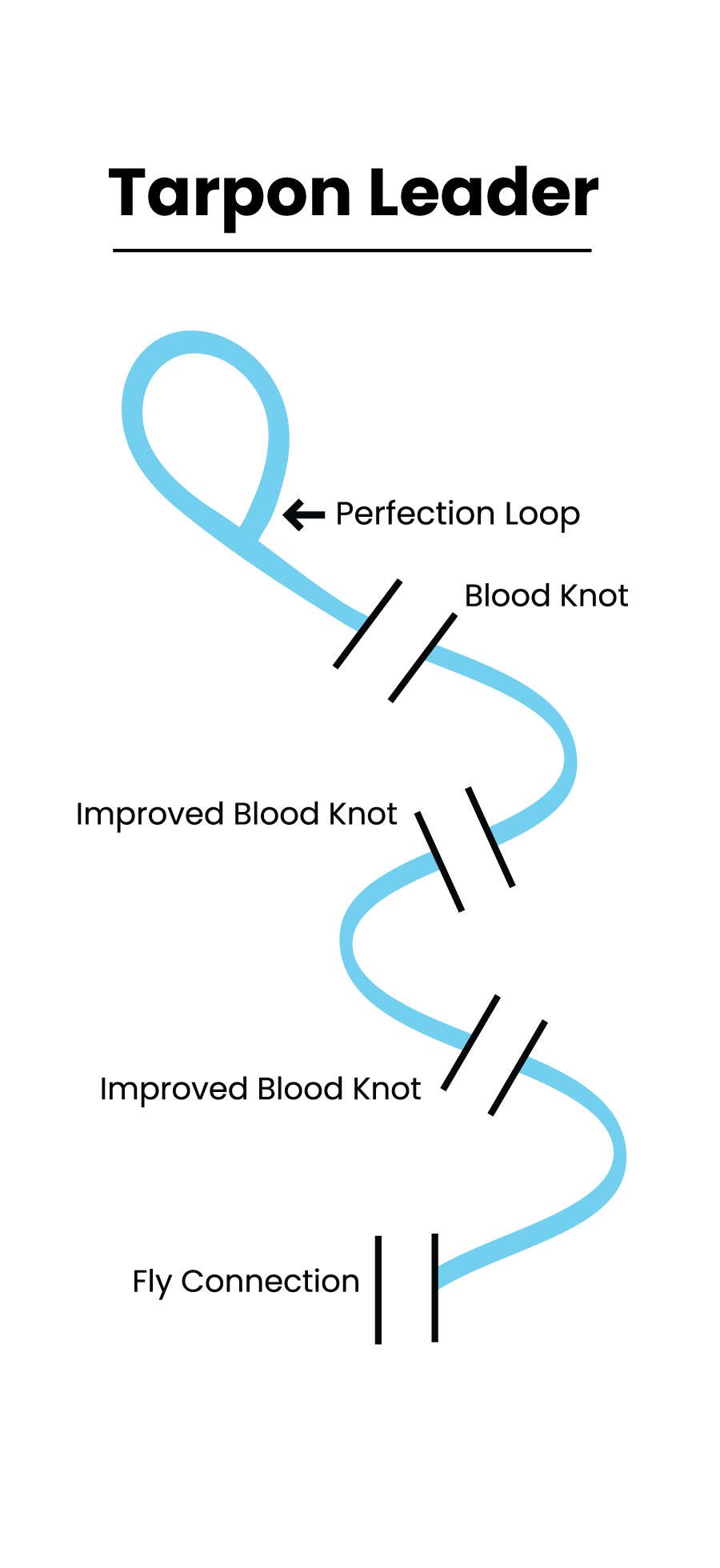 Fly selection is going to be a large—if not the largest—part of your guide's intervention. Whether you have fished with other guides in the area or not, don't be surprised when your guide pulls out the nippers to make a change to your current fly selection. That said, a conversation beforehand can provide you with enough time to tie your own or purchase what works best for your trip. 
Reading and Other Info Sources
There is a ridiculous amount of information made available to use everyday. Getting through to the good stuff is where we all hope to be. That said, I've learned a great deal from just a couple or books. 
First, Lefty Kreh, "Fly Casting". Lefty's words and instruction is the authority on this matter.

Second, Chico Fernandez, "Fly Fishing for Bonefish". Though this book speaks in depth about Bonefish, it is a great read to cover many hot topics (ie how to prepare for a guided trip, when and where for casting at fish, eating habits, etc…) as well as applied approaches for other species.

Third, Andy Mill's "A Passion for Tarpon". There's a lot to be said about first-hand accounts as well as applied techniques and this read will bring both.

YouTube is an excellent source for videos on just about every topic. In order to visualize the context and put it to work. Once again, a lot of muck here so it's best to consult your guide in order to practice what counts.

What to Expect on your Trip
1/2 Day Charters
Best suited for Summer/Evening trips. In the heat of Summer, early morning or late afternoon trips are more comfortable, for the fish as well as anglers!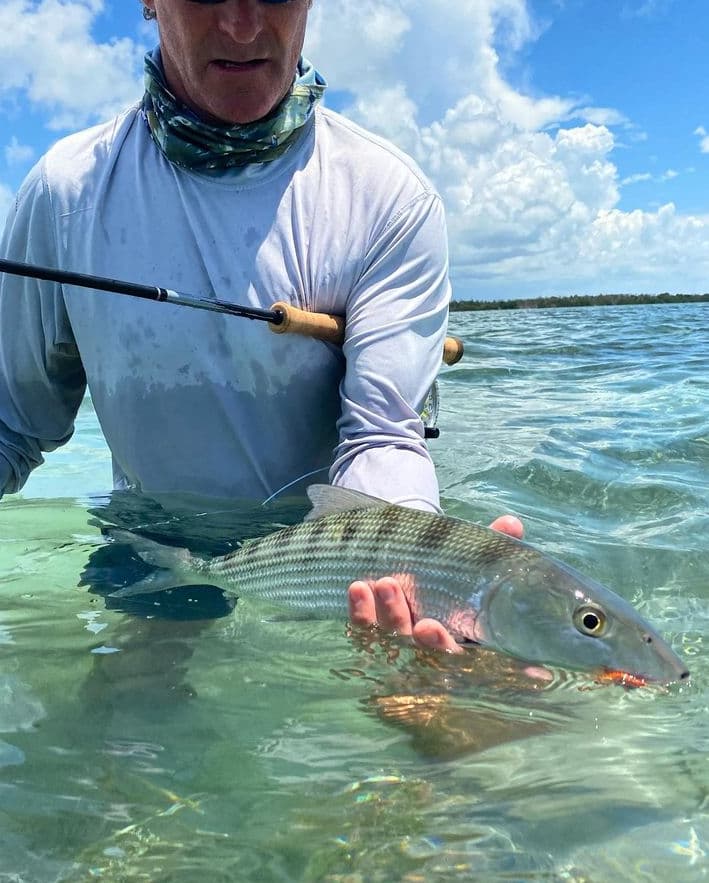 3/4 Day Charters
When a "1/2 Day" just isn't long enough! Perfect for hunting around the flats with a little more leisure.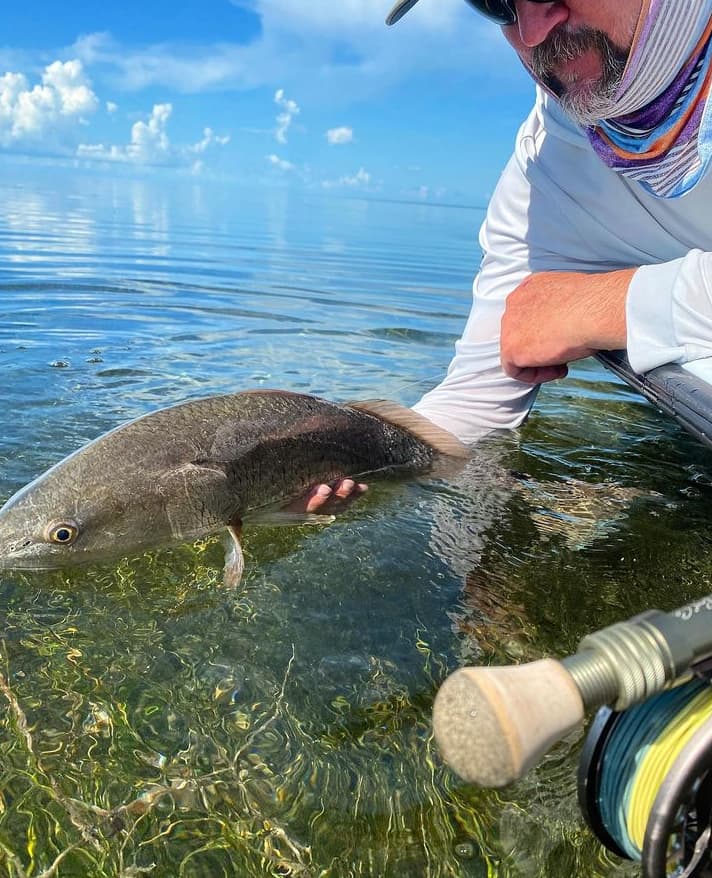 Full Day
Recommended for "Tarpon Season", (March – June). Full day trips are designed to maximize the fishing experience in the Florida Keys.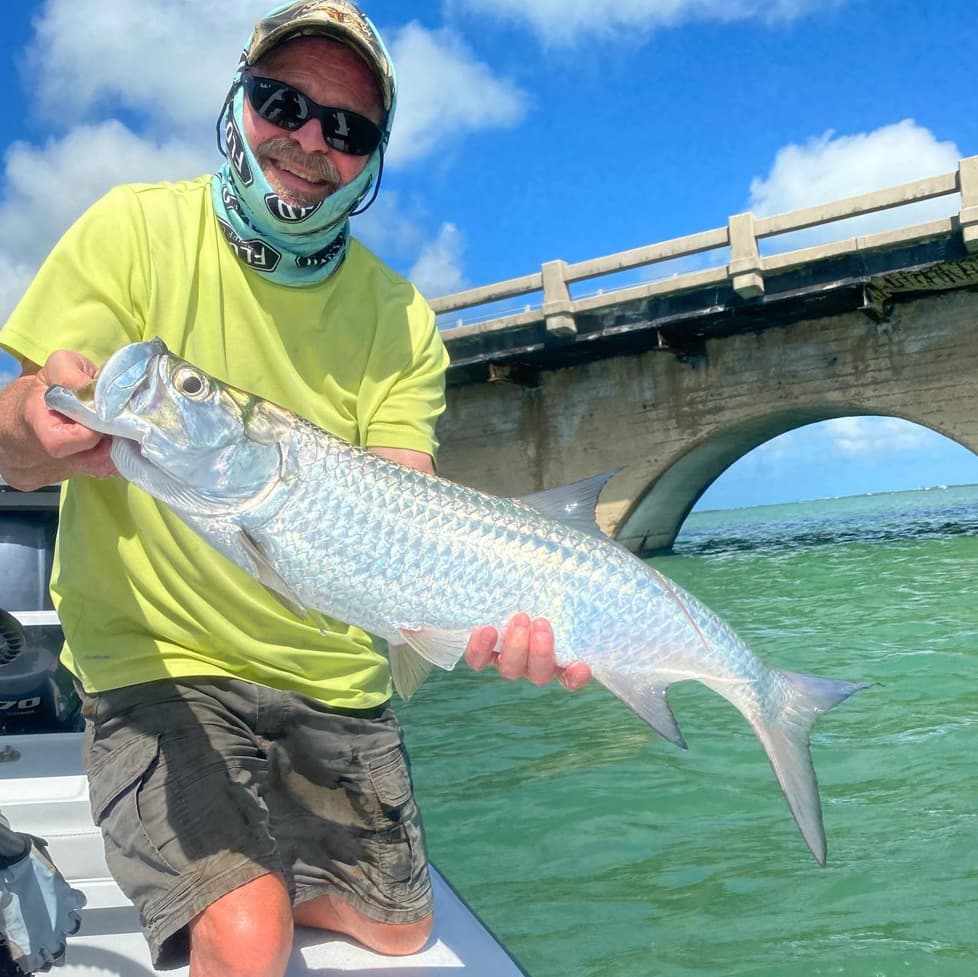 Tarpon Trips
Fishing live bait at the large channels & bridges along the keys offers a high hook-up ratio to anglers of all levels. Availability is generally limited while these trips are an option.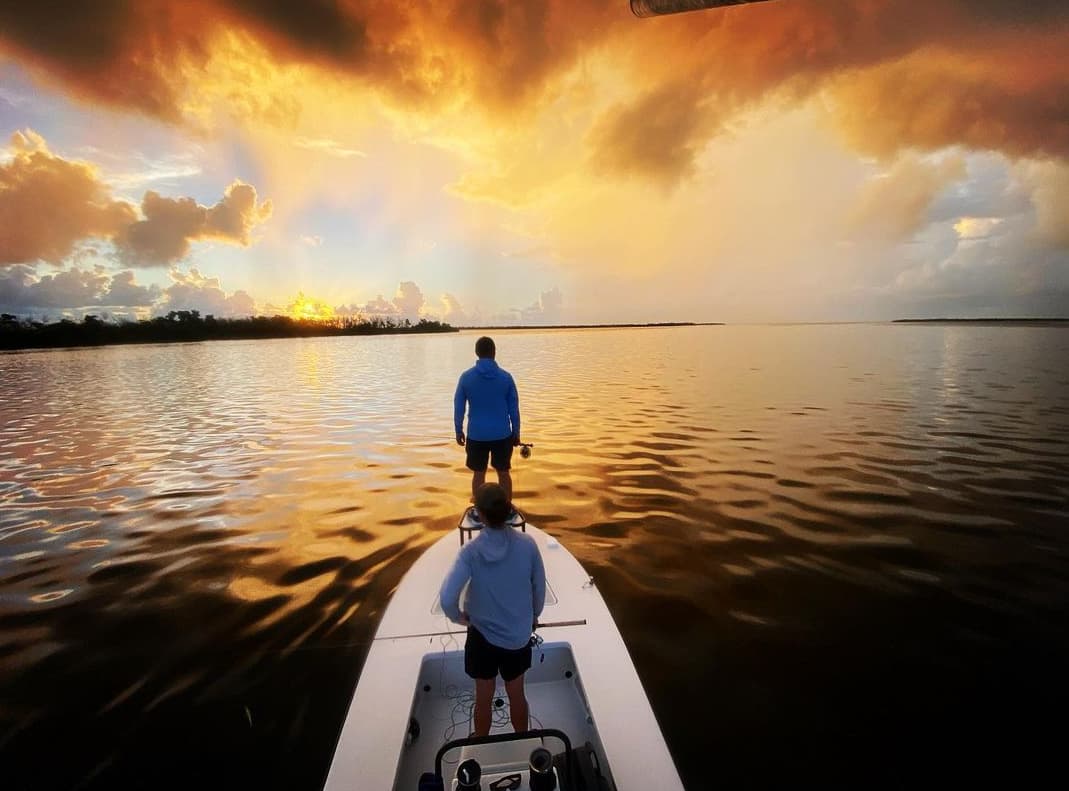 Custom Trips
Looking to stalk a specific species across the Flats & Back-country of the Florida Keys? Hot Water Fishing is thrilled to be your guide for any custom excursion.
What our anglers are saying!
Brent Peterson
2022-11-30
Had a great time. Justin is very knowledgeable and helpful. Will definitely do it again.
Kristen Peterson
2022-11-28
Justin is a master of his craft! His passion for every aspect of backcountry fishing in combination with his tenacity for putting you on fish makes the entire experience really enjoyable. On top of that, he is super personable and really easy to get along with. Can't recommend him enough. If you're looking to fish in the lower keys, look no further than Hot Water Fishing.
My son and I had a great experience fishing the flats with Captain Justin. He knows how to find the fish and put you on them. We had a blast catching bonefish and tarpon on a beautiful day. No matter where you're staying in the Keys, it is worth the drive to Little Torch/Big Pine to fish with this first-class guide.
Justin coached me into my first few bone fish ever and it could not have been better. He talked me through the bite, take down and handling of the fish. I'll be back for tarpon next.
We had a great time fishing with Justin. Very knowledgeable and he works very hard. He is equally at home with anglers new to the sport as he is with more experienced anglers. Highly recommended!
I have had the great fortune of fly fishing around the world and I can honestly say that Captain Justin is as great a guide as I have fished with anywhere…he truly is a world class guide. Justin is extremely knowledgeable, he works very hard to give his clients a great experience, and he is wonderful to share a boat with. Fly fishing the Keys for tarpon is not easy and I was very lucky to have landed a 100lb fish (thank you Justin!)…but the fish was truly just a bonus. I would have scored Justin 5-stars even without the fish; it was just a fantastic experience.
Joseph Sorbara
2022-06-05
Justin is one of the best fishing guides I have fished with, and I fish a lot with many Captains for many years. We had a great day together sight fishing and the day we fished with cloud cover he found a way to make the magic happen I look forward to my next trip. Thanks Justin.
Douglas Parker
2022-04-02
My son and I had the pleasure of fishing with Justin for three days in the Everglades, primarily targeting big tarpon. It was one of the best fishing trips of my life and definitely my son's favorite by far. Justin was by far the best guide I have fished with in all my trips. Not only did he bring the knowledge of the fishery, which is in itself a huge bonus given the size of the Everglades, but his passion and joy for putting us in a position to catch these beasts on the fly is unrivaled. We fished 12+ hour days in sometimes challenging conditions with Justin keeping us on fish with his skills. He is also a passionate steward of the fish and the whole ecosystem showing great respect for both. I would recommend Justin for both the "expert" fishers and the newbies out there trying to hook one of these truly amazing creatures. Thanks for an awesome trip and the lifetime of memories, Justin!
Fishing with Justin was an absolute pleasure. Excellent equipment, really clean boat, very patient with our novice fishermen and got us on fish everyday no matter the conditions. I look forward to fishing with Justin again soon!!
Soflo_CROCi 47
2022-01-12
Being on Justin's boat is one of the best memories I will have in the keys for a very long time if not forever. For being on his skiff for 8 hours he had thought and showed me numerous tips I've never knew. And getting to see all the beautiful flats species that call the Florida keys home was a treat in itself, but to get up and personal with a push pole and hook them was an incredible experience. So if your looking to book a flats fly fishing charter, Justin will be able to handle your request with ease.👍🏼
Ready for some fun on the Flats?
Trust Captain Justin Bachert of Hot Water Fishing for all of your Lower-Keys Back-Country Fishing Adventures!